CIRES Then and Now: Community Impact through Real Estate Management
February 7
@
10:00 am
–
10:30 am
PST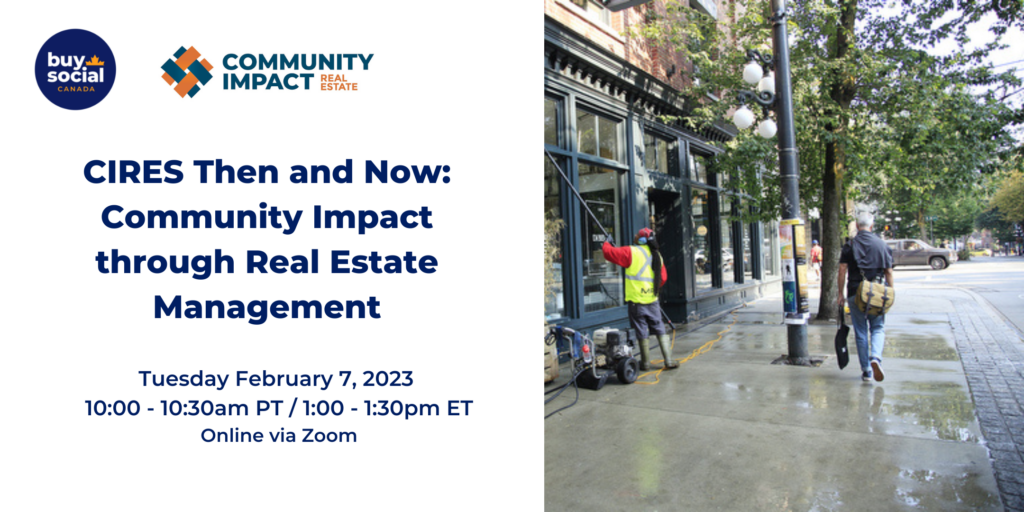 Join Community Impact Real Estate Society (CIRES) and Buy Social Canada for a conversation about the past, present and future of CIRES, and the impact they've had.
Community Impact Real Estate Society (CIRES) is a social enterprise in Vancouver designed to operate a balanced commercial property portfolio that leases space for uses that will ensure affordable goods and services are available to low income residents. Their current portfolio includes 52 commercial units in Vancouver's inner city for a total of 98,000 square feet. About 60% of the commercial units are leased below market rates to social enterprises and non-profit organizations, and revenues from their portfolio are reinvested into community economic development efforts.
David LePage, Managing Partner of Buy Social Canada and founder of CIRES, and Steven Johnston, the current Executive Director of CIRES, will interview each other about their roles in the foundation of CIRES, the impacts they've created over the years, and the future of the social enterprise.
Register now:
More about the speakers
David LePage
David is recognized internationally as a social enterprise and social procurement thought leader, effective practitioner, and public policy architect. Developing and applying innovative market-based solutions over many years to complex social issues has led to David's extensive experience in multi-sector engagements, skills development and knowledge sharing.
As founder and Managing Partner of Buy Social Canada, he has led the Pan-Canadian initiative to leverage a social value from existing government and private sector procurement. David blends direct community-based service delivery and influencing public policy to insure effective and measurable outcomes. His experience and knowledge are built upon years of learning and applicable practice in roles with social enterprises, intermediary services, and membership organizations.
Steven Johnston
Steven is a seasoned executive with more than 17 years of experience in the not-for-profit sector working to improve the social and economic circumstances of vulnerable populations. He began his career in community economic development at Dixon Hall in Toronto, where he played a key role in building and supporting innovative programming for at-risk residents living in the inner city. He relocated to Vancouver in 2014 to lead Tradeworks Training Society where he guided the growth and revitalization of the agency's critical employment and social enterprise programs. Following that Steven has worked for the City of Vancouver developing the City's innovative Community Benefit Agreement policy.
Currently Steven is the Executive Director of the Community Impact Real Estate Society, a unique social enterprise that makes affordable commercial real estate available to non-profits, social enterprises, and other community serving organizations. In addition, Steven serves on a number of community boards and is a mentor to many organizations in Vancouver's Downtown Eastside.
Interested in more like this? Subscribe to the Buy Social Canada newsletter to stay up to date on social enterprise and social procurement news and events.
Buy Social Canada
emma@buysocialcanada.com