How to make the money you spend matter
May 31, 2022
@
11:00 am
–
12:00 pm
PDT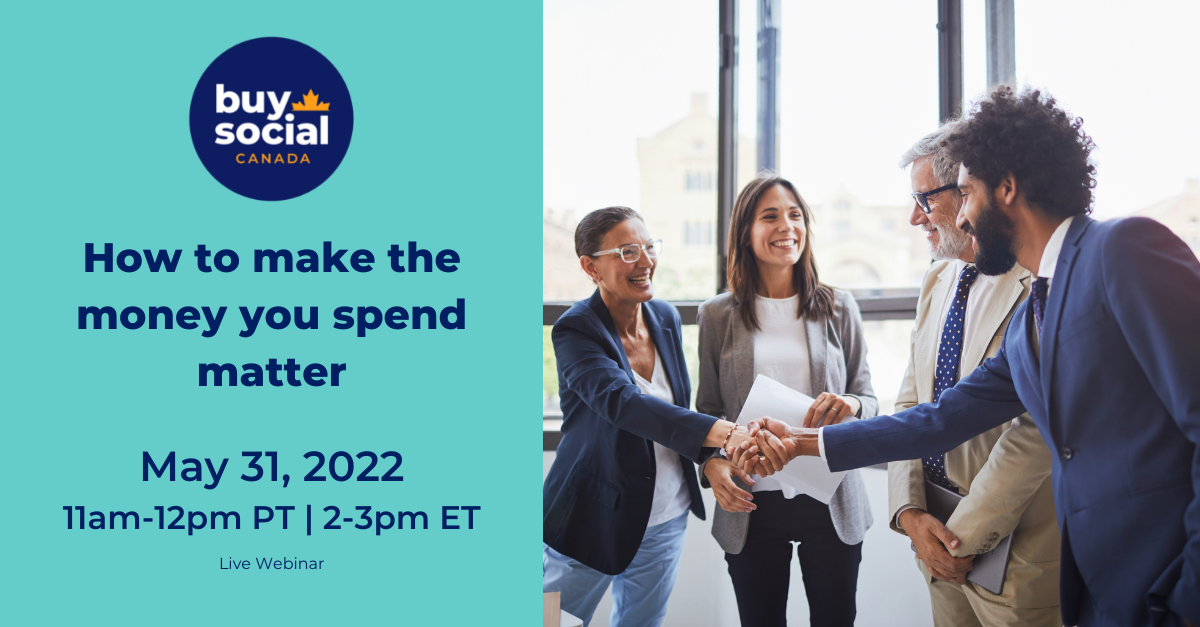 Learn how you can harness your purchasing power with social procurement.
Every purchase has an economic, social, cultural and environmental impact, whether intended or not. With social procurement, you can leverage your purchasing to create a positive impact that benefits people, planet, and community.
Join Buy Social Canada to learn the what, why, and how of social procurement as you embark on your Buy Social Journey. Leaders across Canada, in the public and private sectors, like SAP, Chandos Construction, City of Calgary, BC Housing, York University, and many more are putting social procurement into practice. In this session we'll go from the basics, to best practices, to next steps, as we explore social procurement.
This is a free webinar for you to learn the fundamentals of social procurement and discover the potential in your supply chain. Register for free online now, there are only 25 spots available.
Register for this webinar and you will learn:
How

to incorporate social value into your purchasing

How to align your organization's strategy with what you buy

Different approaches and best practices to social procurement in Canada

Tangible next steps to begin to apply social procurement
Free Resources
Guide to Social Procurement

Social Value Menu for Goods and Services

Trade Agreements Primer

Guide to Social Procurement in Construction and Infrastructure Projects
Presented By
Tori Williamson
Director of Education and Communications at Buy Social Canada
With a passion for understanding the systems around us and working collaboratively on community-centred solutions, Tori believes in people and the power of shifting perspectives and objectives to create monumental change. As Director of Education and Communications at Buy Social Canada, she spearheads consulting and works across the social procurement ecosystem. She sits on the Stronger Together Solidarity Working Group to help bring inclusion, diversity, equity, and access to the social innovation sector. Currently, she is the Project Manager for Wood Buffalo Social Procurement Implementation, the Peterborough Social Procurement Project, the lead for Buy Social Canada's Social Procurement Supplier Readiness (SUPER) training program and Education and Training Lead for the British Columbia Social Procurement Initiative.
What our clients are saying:
"The Buy Social Canada team is amazing. You have the entire team at your disposal, all their tools, all their knowledge. They want to help. They pride themselves on making sure that corporates, just like social enterprises, have what they need to succeed, to make sure that they know how and where to include social procurement."
"Thanks for the session Tori and for igniting a spark for me to think about how we can use procurement to increase employment opportunities for people with disabilities. Well done!"
"Your session was captivating and my colleagues and I found the information you shared truly insightful."
Ready to start buying with impact?
Join us at our webinar to learn more about how to build and grow a successful social procurement practice.