Feed BC: Purchase local food to achieve social and environmental goals
September 13
@
2:00 pm
–
3:00 pm
PDT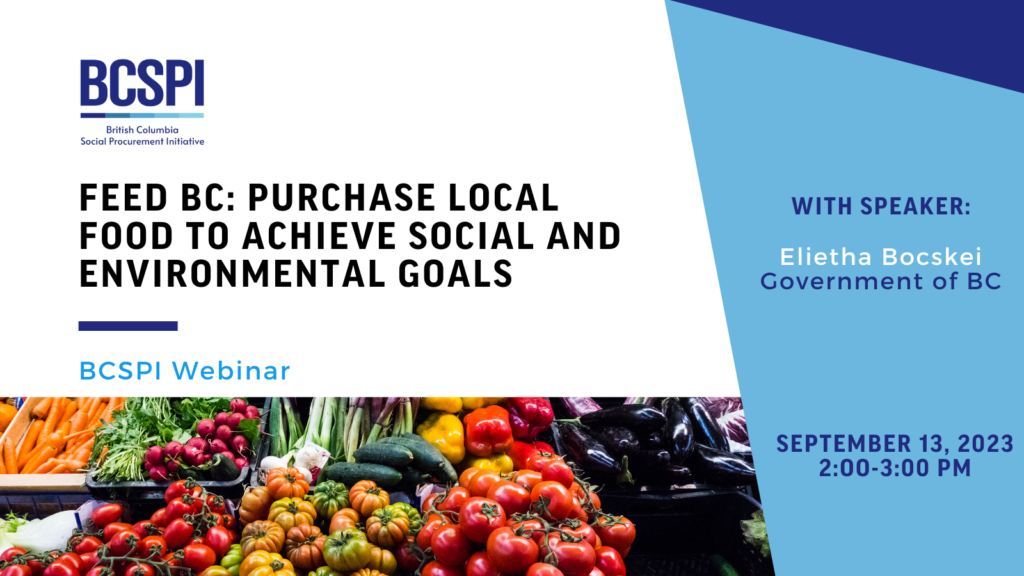 Join British Columbia Social Procurement Initiative (BCSPI) to learn how purchasing local BC food can help achieve your organizational social and environmental goals.
Elietha Bocskei, Lead Manager of Institutional Partnership and Strategies for Feed BC, joins BCSPI to share information on the BC Government's Feed BC program, free procurement resources, local food directory and more. She will share insight on how public purchasers can have an impact by buying local and culturally appropriate foods.
About Feed BC:
Feed BC is a provincial government partnership initiative led by the Ministry of Agriculture and Food, to increase B.C. food in hospitals, residential care facilities, public post-secondary institutions, and other government-supported facilities.
Increasing B.C. food in public institutions:
Supports jobs and businesses for farmers, fishers, ranchers and food processors across B.C.;
Builds the provincial food supply and food system resilience;
Connects patients, residents, students, workers and clients to local food; and
Supports economic development in all regions of the province.
To learn more about how BCSPI can empower your purchasing, explore bcspi.ca.
British Columbia Social Procurement Initiative (BCSPI) brings together local governments and institutions to develop and grow social procurement policies and practices. BCSPI is supported by Buy Social Canada, Scale Collaborative, and Vancouver Island Construction Association.