Incorporating the Accessible BC Act into Local Government Procurement
November 21
@
12:00 pm
–
1:00 pm
PST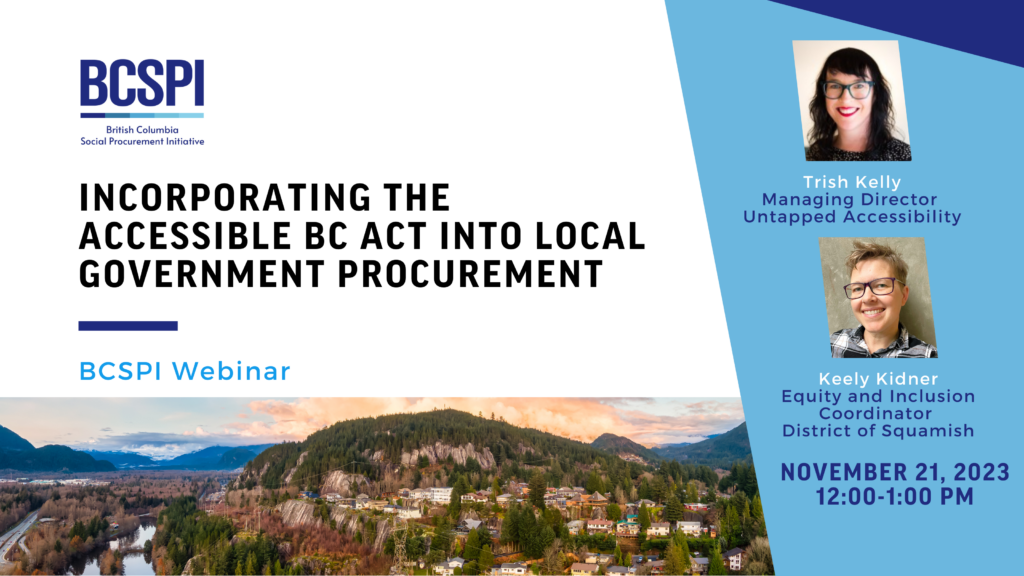 Join the British Columbia Social Procurement Initiative (BCSPI) to learn how local governments can incorporate the Accessible BC Act into procurement programs and processes.
Trish Kelly (Managing Director, Untapped Accessibility) and Keely Kidner (Equity and Inclusion Coordinator, District of Squamish) will share an overview of what accessibility means, what local governments need to know about the Accessible BC Act, and how to incorporate the requirements of the Act in procurement programs and processes. The District of Squamish, a BCSPI Member, has been proactive in implementing the Act's requirements and can share additional learnings and best practices.
About Keely Kidner
Keely Kidner (she/they) is the Equity and Inclusion Coordinator at the District of Squamish. She is responsible for furthering inclusion, diversity, equity, and accessibility (IDEA) throughout the organization, including the development of the District's Accessibility Plan. Keely has a background in social science research with a focus on language and communication. As a deaf person, Keely also has experience living with a disability.
About Trish Kelly
Trish Kelly (she/her) is the Managing Director of Untapped Accessibility, a certified social enterprise with a dual mission to create work opportunities for professionals with disabilities and to generate revenue for Open Door Social Services Society.
As an accessibility subject matter expert, Trish has supported local governments, school districts, and other public sector entities to operationalize accessibility and inclusion.  She was the lead researcher and writer for Developing Your First Accessibility Plan: A Guide for BC Prescribed Organizations and Food Banks: BC's Accessibility and Equity Guide for Food Banks.
Her knowledge of Diversity, Equity, Inclusion and Accessibility is informed by her experience as a leader in socially responsible organizations, as a justice-focused advocate in the community, and as a child of a disabled parent.
About Untapped Accessibility
Untapped Accessibility is a Buy Social Canada Certified Social Enterprise which helps organizations deliver on accessibility. Whether your organization is taking action in response to accessibility legislation, or you see accessibility as a business imperative, Untapped Accessibility can help. Services include: accessibility planning, community engagement, and accessibility awareness training.
The webinar recording from this event will be available for BCSPI members following the event. This event will have live captioning provided for increased accessibility.
BCSPI
emma@buysocialcanada.com