Indigenous Procurement in Local Government: Advice for Getting Started
October 26
@
10:00 am
–
11:00 am
PDT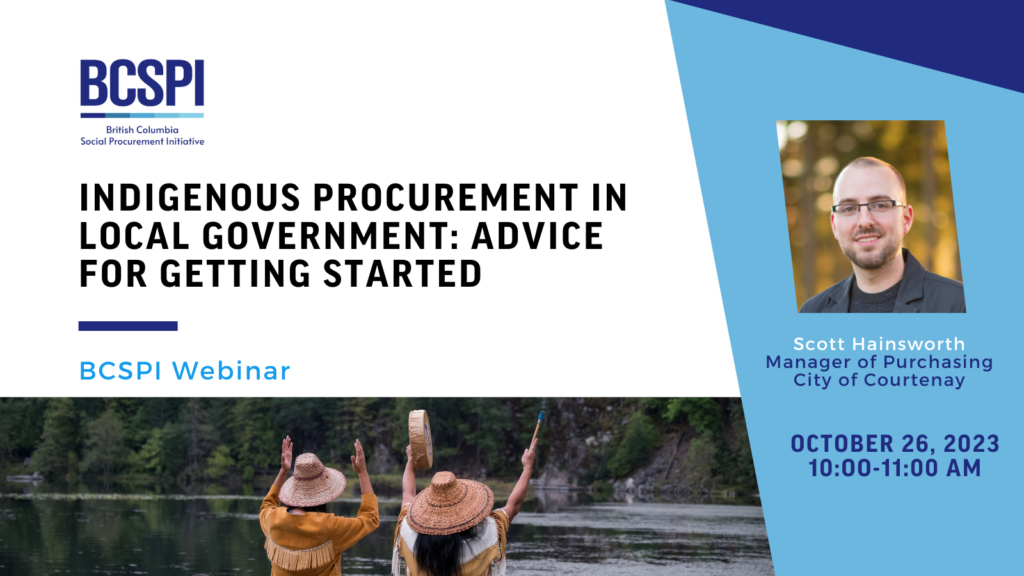 Join British Columbia Social Procurement Initiative (BCSPI) to hear about a case study and new resource for getting started with Indigenous Procurement.
Scott Hainsworth, Manager of Purchasing for City of Courtenay, joins BCSPI to share how the City developed a new Indigenous Procurement policy in collaboration with K'ómoks First Nation in order to advance economic reconciliation and support Indigenous businesses and people in their community.
In addition to the case study from Courtenay, this webinar will introduce a new BCSPI Member Resource: 'Get Started with Indigenous Procurement,' which outlines best practices and top tips for starting to design and implement Indigenous Procurement in public organizations.
Register free now:
To learn more about how BCSPI can empower your purchasing, explore bcspi.ca.
BCSPI
emma@buysocialcanada.com