Update
New St. Paul's hospital construction continues to exceed community benefit agreement goals
Mar 6th, 2023
The New St. Paul's Hospital is the first project to trigger the City of Vancouver's Community Benefit Agreement (CBA) policy, designed to create additional community benefits in the neighbourhoods surrounding the project, and the city more broadly.
The hospital is owned by Providence Health Care, and PCL Construction is the general contractor on the project. Construction of the new hospital and learning campus began in Spring 2021. The project has a budget of $2.17 billion and the new hospital is set to open to the public in the Summer of 2027.
Under the City's CBA policy, the New St. Paul's Hospital project owner, general contractor, and select sub-contractors are required to report on three targets:
10% of new employees voluntarily self-identify as a member of an equity-seeking group, with priority going to those that are equity-seeking and live locally to the job-site
10% local procurement
10% social procurement from third party certified social enterprises, or social impact or equity-seeking-owned businesses
Year 2 Exceeds Targets
Based on reported data from September 2021 to January 2023, the project is currently meeting and exceeding all three Community Benefit Agreement targets.
Equity and local employment
To date, 48% of new employees have voluntarily self-identified as an equity-seeking group. Of those 48% identified, almost 19% also live in the neighbourhoods surrounding the project in Vancouver. New employees have filled a variety of roles, including hourly and salaried positions. The CBA policy targets will continue to apply after construction is done and the hospital begins operating, prolonging the inclusive employment impacts of the project.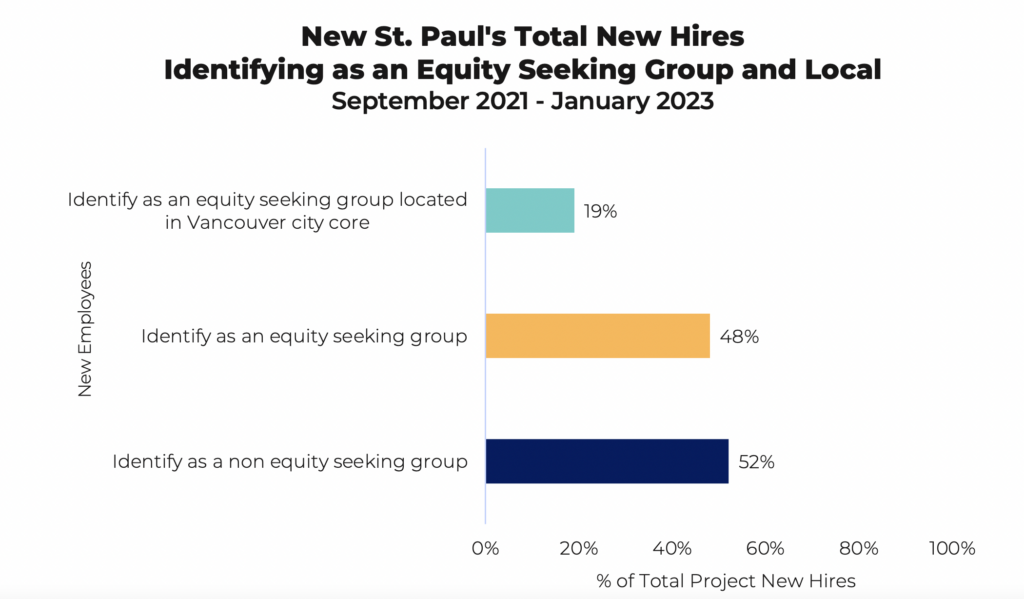 Local procurement
30% of the total project spend, $134.6 million, has been awarded or directly spent with businesses in Vancouver. As of January 2023, the project has achieved triple the CBA local procurement target.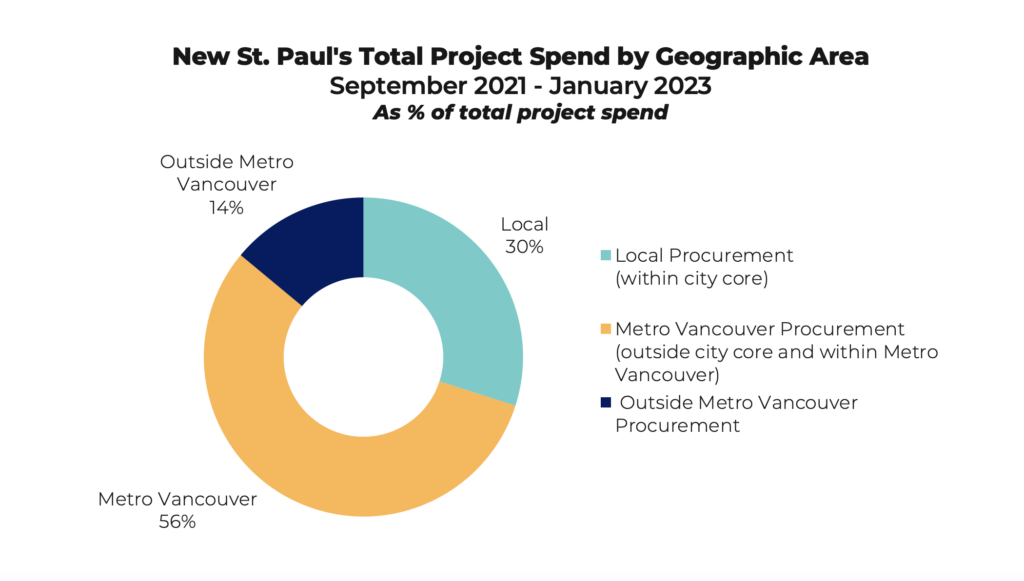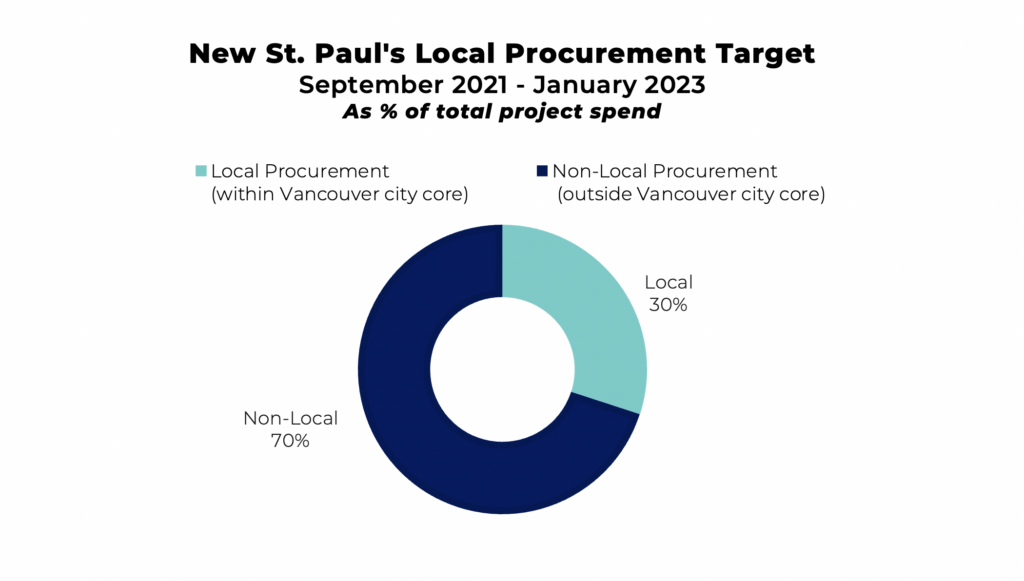 Social procurement
16% of the total project spend, $70.5 million, has been directed to social enterprises, social impact businesses, and diverse or equity-seeking owned businesses. Social impact businesses include B-Corps, Living Wage Employers, and non-profits. All organizations captured in this metric are verified through third-party certifiers, such as CCAB, WBE, CAMSC, or the City of Vancouver.
The social procurement outcome reflects how the CBA has increased awareness of social enterprises for Providence Health Care, PCL, and all the involved subcontractors. We hope these connections between purchasers and suppliers will be built upon throughout the remaining years of this project, and in other projects in future.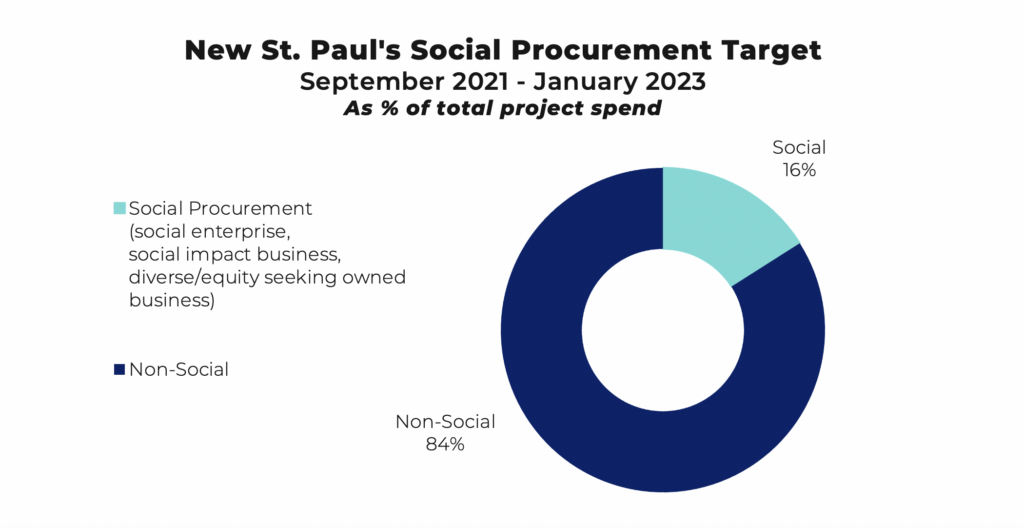 Community impact
CBA outcomes are about so much more than numbers and quantitative data. While the stories of impact and success from CBA implementation don't always show up in graphs, they have tangible impacts on the lives of community members.
Getting creative
One sub-contractor on the New St. Paul's hospital project asked the City of Vancouver to approve an alternate installation process that would allow their materials to be locally sourced. The City agreed, and this spend was redirected from a manufacturer based in Chicago, USA to one based in Abbotsford, BC.
"Sourcing local manufacturing of electrical material was a logical step to impact our local communities and help meet the intent of the CBA."
Ryan Olsen
PLan Group
Indigenous reconciliation
For Truth and Reconciliation Day, a subcontractor collaborated with Circle of Eagles Trading Post, a local social enterprise, to purchase 100 orange shirts for their staff.
Circle of Eagles Trading post is an enterprise of the Circle of Eagles Lodge Society (COELS). In addition to creating a space for Indigenous artists to sell their works at their East Vancouver store, profits from the Trading Post are reinvested into COELS to support Indigenous brothers and sisters leaving federal institutions and those dislocated from society. Supports provided by the society include housing, culturally safe spaces, and peer support.
The subcontractor was already planning buying orange shirts for their team, and was able to redirect the spend to a social enterprise to contribute to their CBA targets.
"It was a phenomenal support because the funds received from sales go back into the [Circle of Eagles] Trading Post and are used to continue working with our Brothers and Sisters."
Amanda McGee
Circle of Eagles Trading Post
Supportive employment
Several subcontractors on the project have contracted with CleanStart Property Services, a local social enterprise and supportive employer in Vancouver's Downtown Eastside. CleanStart provides regular janitorial cleaning to on-site trailers. For over a year, this opportunity continues to provide an estimated 75 hours per month of work for the social enterprise's staff.
Contracts with CleanStart Property Services have a positive impact on the lives of their staff, as well as the environment. CleanStart employs people facing barriers to employment to provide a wide range of property management and cleaning services. Currently, 50% of their staff identify as facing barriers and 43% of their staff have experienced houselessness. CleanStart also makes a concerted effort to recycle and reduce waste; in 2021 their team diverted 12,843 cubic yards of waste from landfills.
Connect and support
As the CBA Third Party Monitor, Buy Social Canada hosted four Employment Opportunities Meetings over the course of 2022 to facilitate the relationships needed to meet and exceed the CBA targets. These meetings offer space for employment organizations and construction employers to connect and create opportunities that satisfy both the project's targets and the sector's staffing demands.
Employment organizations that participate include:
Metis Nation British Columbia
MOSAIC Engage
Open Door Group
Pacific Community Resources
PICS Society
YWCA Vancouver
ACCESS Futures (Trades and Bladerunners)
BC Centre for Women in the Trades (BCCWITT)
DIVERSECity Skills and Training
EMBERS Staffing Solutions
Immigrant Services Society of BC
What's next?
Stay tuned for continued updates on outcomes and success stories from CBA implementation in Vancouver.
Get in touch with us to join an upcoming Employment Opportunities meeting.
If you would like to be included in supplier lists for purchasers on the New St. Paul's Hospital site, explore Social Enterprise Certification. Not a social enterprise but still interested in becoming a supplier? If you or your organization's ownership meet the City of Vancouver definition of equity-seeking groups, fill out this form.
Are you a developer, purchaser, or business in construction? Learn more about our social procurement services tailored to the construction industry.