Marketplace Impact: A National Conversation on Social Procurement
May 25
@
10:00 am
–
12:00 pm
PDT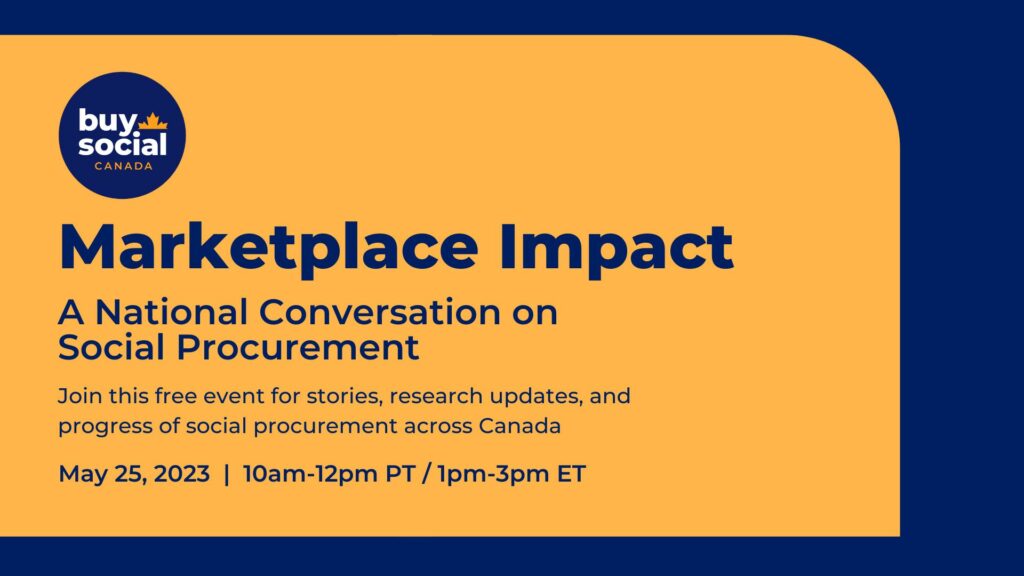 Join Buy Social Canada as we share stories, updates, and progress of social procurement at Marketplace Impact: A National Conversation on Social Procurement. This is part one of a two-part series exploring what's happening on the supply and demand sides of the Canadian social value marketplace.
No longer isolated policies or one-off pilots, social procurement has evolved into a movement that is influencing the behaviour of the marketplace. Governments, institutions, corporations, and non-profits continue to move procurement from merely a series of economic transactions to a tool for building healthy, thriving communities.
This will be a free, engaging event to learn about new social procurement research and trends. The event will feature panel discussions and opportunities for conversation and networking with peers on our virtual platform Airmeet.
Join us on:
May 25, 2023
10am – 12pm PT / 1pm – 3pm ET
Online, free
Opening remarks
Community discussion
Panel discussion: Expanding supplier inclusion and verification
Community discussion
Updates from the sector: New research and key learnings
Case studies: Implementing measurement and reporting
Community discussion
Social Procurement Champion Awards
Closing remarks
Buy Social Canada
emma@buysocialcanada.com