Update
Event agenda for Marketplace Impact: A National Conversation on Social Procurement
May 11th, 2023
Join Buy Social Canada online on May 25 at Marketplace Impact: A National Conversation on Social Procurement as we share stories, updates, and progress of social procurement across the country. This is part one of a two-part series exploring what's happening on the supply and demand sides of the Canadian social value marketplace.
This event includes panel discussions, opportunities for conversation and networking with peers, and the celebration of educators and agitators at the Social Procurement Champion Awards.
Don't miss this engaging, two-hour virtual event on May 25 from 10am-12pm PST / 1pm-3pm EST.
---
Event agenda
Opening remarks
Community discussion – see more info on what this is below
Panel discussion: Expanding supplier inclusion and verification
In this panel, speakers from City of Toronto and Indigenous Services Canada will explore current research and implementation practices as purchasers working to expand supplier inclusion and consider options for social value verification in social procurement programs and practices.
Speakers:
Hanifa Kassam, Acting Manager for the Poverty Reduction Strategy Office, City of Toronto
Dolores Coelho, Senior Program Manager for Transformative Indigenous Procurement Strategy, Indigenous Services Canada
Community discussion
Updates from the sector: New research and key learnings
Buy Social Canada will share updates on new research, including a survey of our Social Purchasing Partners and consulting clients, a Jurisdictional Scan of public purchasers' practicing social procurement across Canada, a Guide to Social Procurement in Tourism, Hospitality and Events, and new research into supplier verification and self-attestation.
Case studies: Measurement and reporting
Leaders from City of Edmonton and Chandos Construction will share case studies and learnings from their measurement and reporting practices designed to share impacts of social procurement implementation.
Speakers:
Community discussion
Social Procurement Champion Awards
There is no final destination on a social procurement journey. We will always seek to improve outcomes, increase impact and tell great stories. With this year's Social Procurement Champion Awards, we are celebrating educators and agitators who see the potential for social procurement and are working towards a better future for their communities. Learn about the recipients, Momentum, We Want to Work, and Centre for Social Enterprise at Memorial University.
---
Community discussions on Airmeet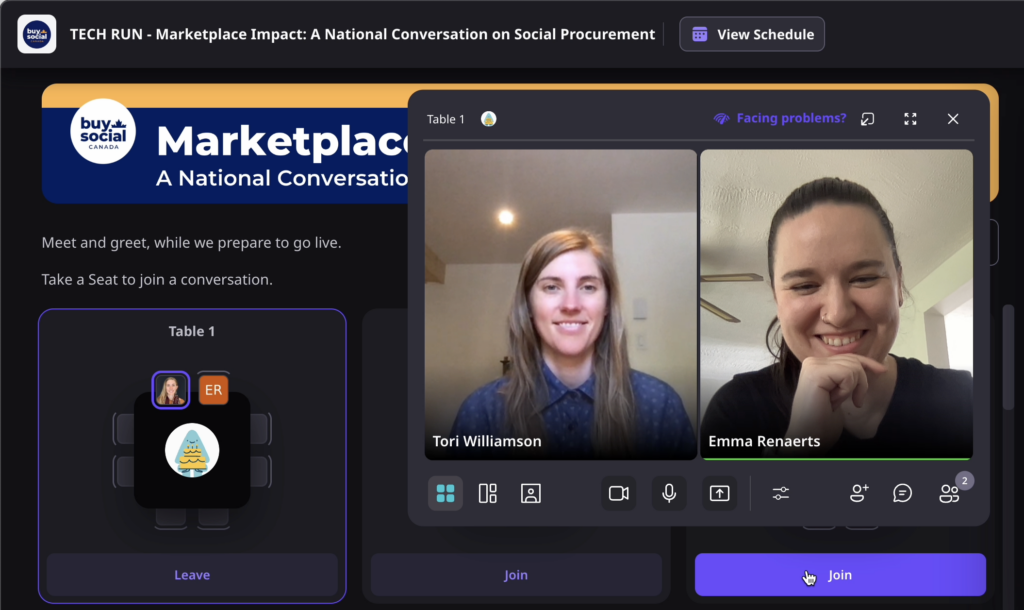 For this event, we're gathering on the virtual platform Airmeet. Between sessions, there will be plenty of time for community discussion and networking at Airmeet's interactive "Tables." Tables are like breakout rooms on Zoom, but a bit more personal, and easier to move between.
Tables will be open at 9:30am PT/ 12:30pm ET, and close at 1pm PT / 4pm ET on May 25. Join a table at the start of the event, and move between tables throughout the sessions to connect with new people.
You can see who is in each table easily, invite people to join your table, chat privately and share your screen. Most of all, tables are a great space to connect and feel like you're at an in-person event around an actual table. We hope you'll enjoy and take advantage of this feature when we meet!
---
Thank you to Buy Social Leader Chandos Construction for sponsoring Marketplace Impact: A National Conversation on Social Procurement.