Update
One year in: CBA implementation at New St. Paul's Hospital
Jul 4th, 2022
Version Française ici.
The New St. Paul's Hospital (NSPH) project broke ground in spring 2021 and we have gathered the first year's data on the community benefit agreement targets. Buy Social Canada is contracted by PCL Constructors Westcoast Inc. as their Independent Third-Party Monitor on the New St. Paul's Hospital Project for Phase 1a. This is the first project to trigger the City of Vancouver's Community Benefit Agreement Policy which was passed in 2018.
Exceeding targets
The $2.174 billion construction project is committed to work toward goals of 10% hiring of local individuals from equity-seeking groups and 10% local and 10% social purchasing. Following construction, the hospital's owner, Providence Health Care, will be required by the CBA policy to fulfill the same employment and purchasing criteria for the operations of the building.
"It is our role to support all the stakeholders for a collaborative and successful process, including the City, the owners, community stakeholders, and PCL and their sub-contractors," said Elizabeth Chick-Blount, Executive Director of Buy Social Canada.
At the one-year mark, the project has so far surpassed all procurement and employment targets set by the City. The following charts show data collected from PCL and key subcontractors by Buy Social Canada between April 2021 – April 2022. A total of 238 new employees were hired and $233,032,777.97 was reported to be spent on the project during this period.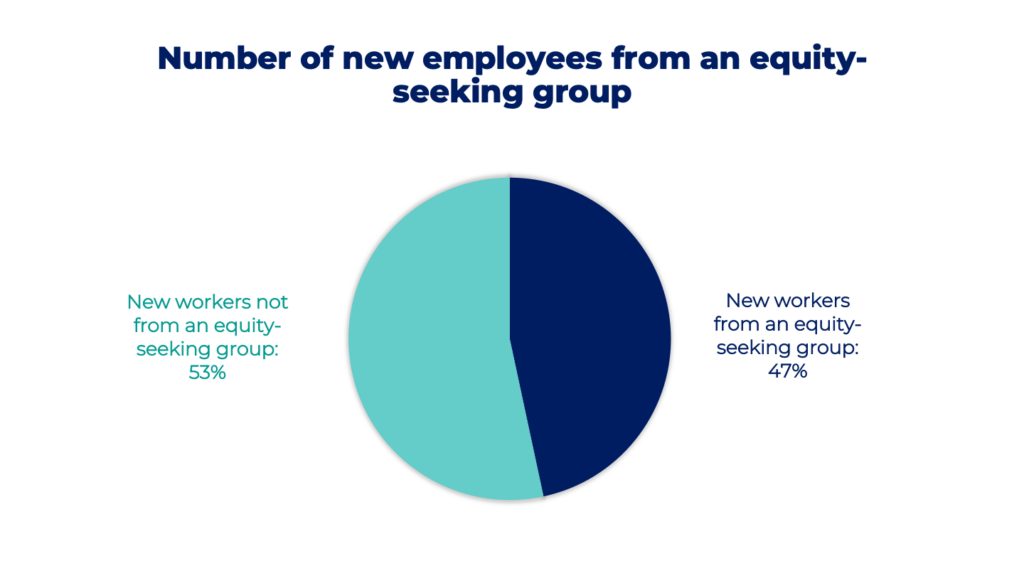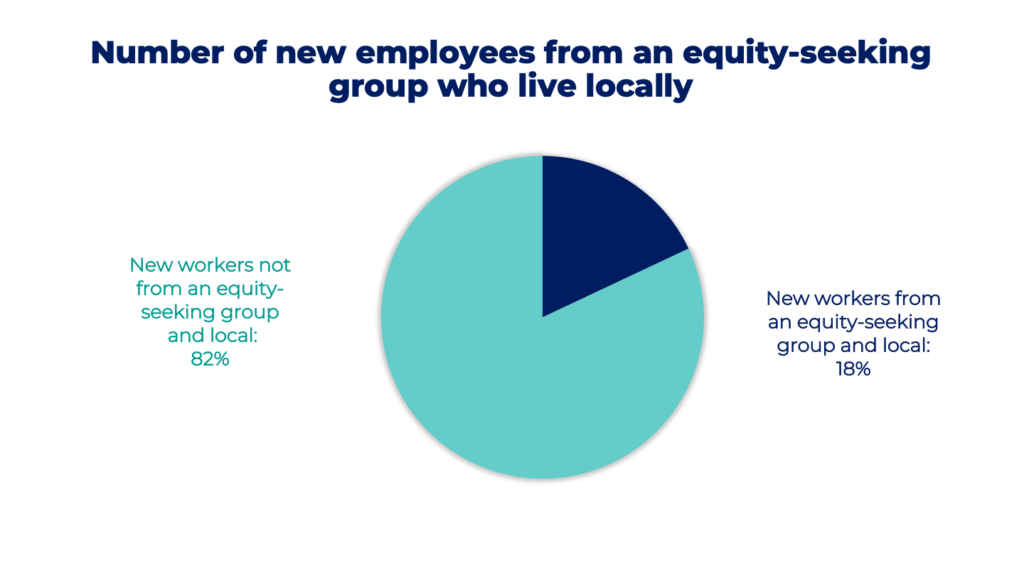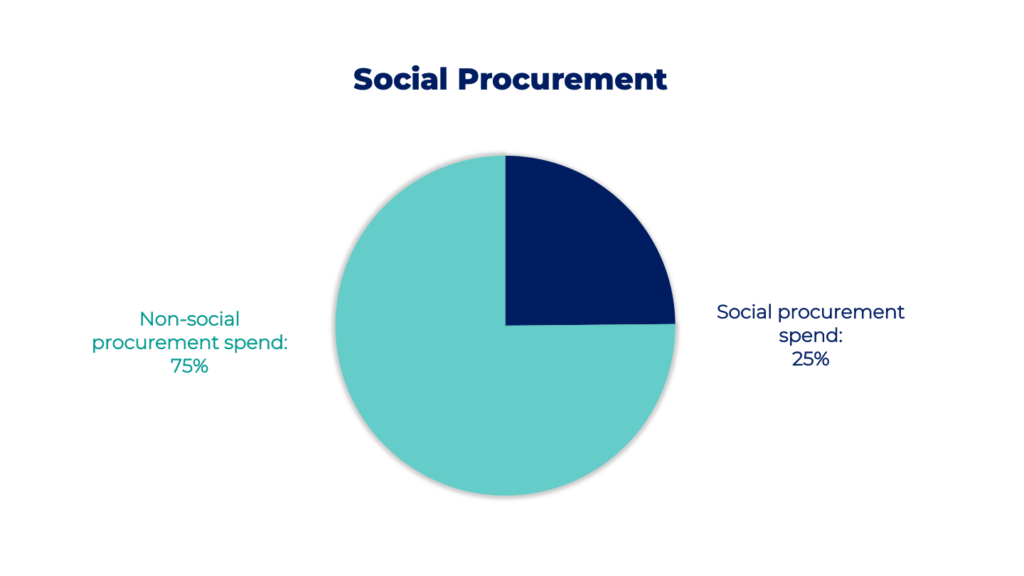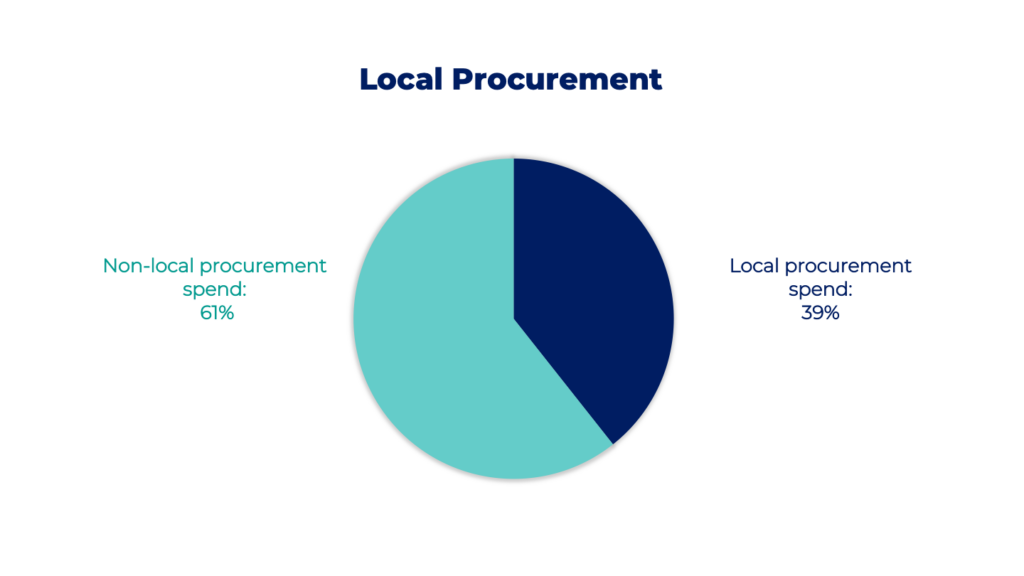 Stories of impact
The benefits from CBAs are much more than a set of numbers. There are several stories of impact from social procurement with local social enterprises that show how even one new hire opportunity can change lives and contribute to community economic development.
EMBERS, the Eastside Movement for Business and Economic Renewal Society, is a social enterprise and registered community economic development charity located in Vancouver's Downtown Eastside, one of Canada's poorest neighbourhoods. EMBERS has provided day labour and staffing solutions for PCL since July 2021. Some staff were originally contracted on site as security guards or gatekeepers.
Doug Aason from EMBERS wrote about their experience working with PCL and placing staff on-site at NSPH, a few of which have since been employed by PCL as full-time employees, and shared the story of Aurora, who started with EMBERS at 18 years old. Doug says she "was recently directly hired onto the PCL team as an apprentice carpenter. This was a few months ago and she is currently doing her theoretical as an apprentice carpenter at BCIT. She said she is super happy and looking forward to a long career in the industry with PCL."
Doug also shared Joe's story. He started as a gatekeeper working for PCL, and Site Superintendent Paul Devrendt shared with Doug that "Joe was so amazing… always going out of his way to go the extra mile to help out wherever he could and do anything at all he could to help with never having to be asked."
Although Joe was 65 years of age, Paul said, "we saw in Joe what is important to PCL: a great worker and someone who easily fits into our team." Embers commends PCL for recognizing the value of each individual worker no matter their age.
In addition to working with EMBERS, PCL has purchased catering for their staff from Potluck Catering, a local social enterprise that employs and trains people with barriers. Potluck's mission is to transform lives by creating jobs and providing healthy food for people living in Vancouver's Downtown Eastside.
Lisa Forrester, the Administrative Assistant from PCL said of her experience with Potluck that, "We have used Potluck a couple of times and have been very happy with them. Both times were not a lot of notice for them, but they accommodated us, and the feedback was great. Everyone enjoyed the food and had enough to eat. I really appreciate that they include water in their lunch boxes and their prices are still very reasonable. As well, Darcy is great to work with. Thank you for giving me their information. It is a win/win situation, and they are definitely my go-to now."
PCL is not the only contractor on site working with social enterprises. Subcontractors Modern Niagara and Plan Group have contracted with CleanStart BC since November 2021 for weekly sanitization and junk removal services in their trailers on site. CleanStart BC is a local social enterprise that provides property services and employs people that have barriers.
So far, their staff have worked 80 hours on site, providing employment for 3 people. CleanStart BC's COO, Charlotte Lewthwaite, said that for their employees being included on the New St. Paul's project, even if just for weekly sanitization and office garbage removal, has been a refreshing change of scenery for their crews from working in SROs and supportive housing.
CleanStart BC was able to pivot their business model to gain work on this project and developed a new brochure of services to meet the demand of the project.
In addition to formal contracts, PCL and key subcontractors are invited to participate in monthly meetings to make connections with workforce and employment organizations to share hiring opportunities and learn more about the available workforce in the area.
Organizations they meet with include:
In addition to efforts that are meeting the targets, there are other social benefits that key players have created, particularly related to efforts to reconcile with local Indigenous communities.
On July 22, 2021, The Owner hosted a Blessing Ceremony at the New St. Paul's Hospital site to continue to develop a productive partnership which honours the protocols, rights, and title of the sovereign host Nations and results in material benefit for the host Nations and their members. Friendship Catering Services, a local Indigenous-led social enterprise was hired to provide breakfast for the team after the blessing ceremony.
---
Buy Social Canada continues to facilitate relationships and connections between the construction industry and local social enterprises, community employment resources, and local businesses, as well as support the gathering of data, and reporting on outcomes.
For more information on the metrics from the first year's Annual Report please see this slide deck of key details and stories.