Update
Make a resolution to advance the marketplace revolution
Jan 3rd, 2023
2022 saw incredible progress with social procurement and community capital creation. People and organizations across the country are working to add value to their procurement in multiple ways, such as Indigenous procurement, sustainable procurement and benefit driven procurement. We see a growing movement of social value suppliers like social enterprises, diverse-owned businesses and social purpose organizations. We are thrilled to look ahead to a new year where we will continue to work together to transform our economies from systems of extraction and exploitation to a social value marketplace where communities can thrive.
We offer gratitude for our participation in the Government of Canada Investment Readiness Program (IRP) this year. As an IRP Partner we have been able to bolster our nationwide activities and collaborate with purpose-driven purchasers, intermediaries and social value suppliers. One part of our IRP work was to help solve a gap in the social finance market. When social enterprises and other social value suppliers who may face barriers to traditional funding avenues need funds quickly to conclude a contract, they are able to access the Seal the Deal Fund. This is just one example of how being an IRP Partner has contributed to our ecosystem approach to shaping the social value marketplace.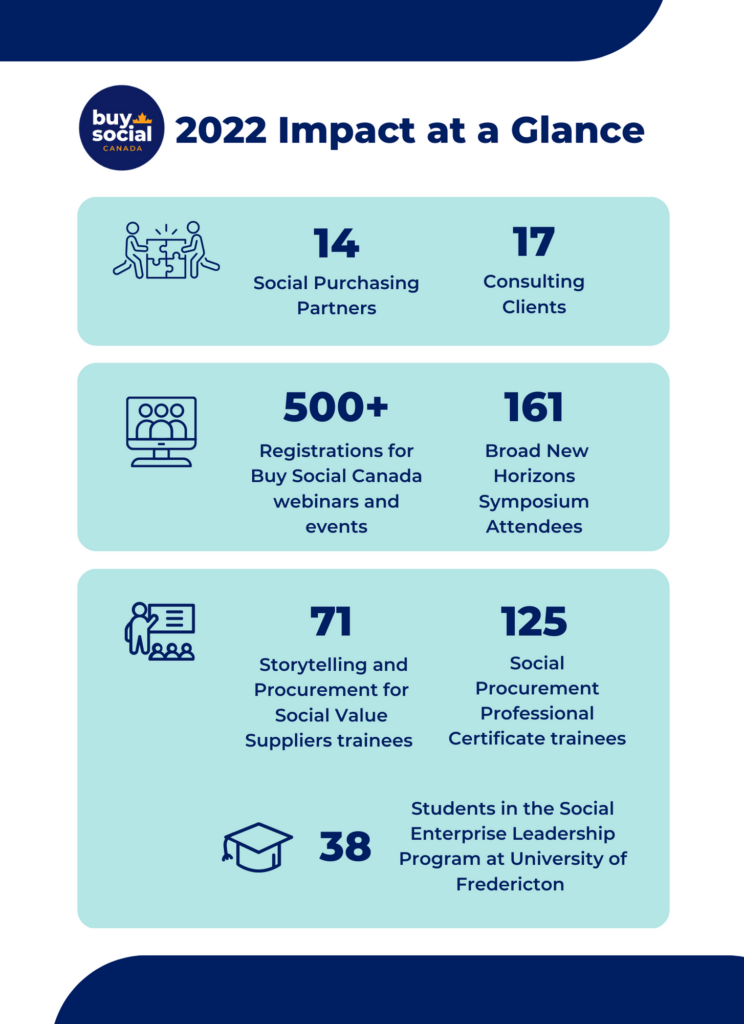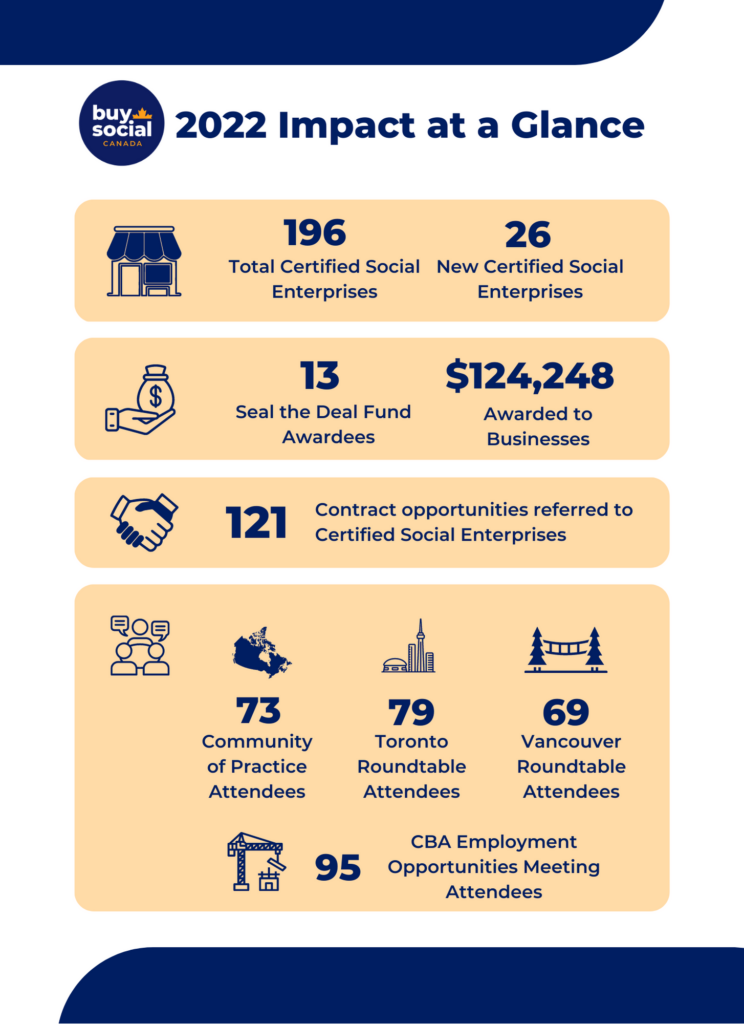 Our Impact at a Glance numbers showcase some of what we've accomplished this year.
What we saw in 2022
Federal Policy
While it may have been years in the making, in 2021 and 2022 we welcomed two major policy steps that provide a policy and implementation framework for social procurement across the Federal Government. In 2021 Canada's Treasury Board Secretariat implemented a Directive on the Management of Procurement stating "Procurements are managed in a manner that enables operational outcomes and demonstrates sound stewardship and best value consistent with the Government of Canada's socio-economic and environmental objectives."
In the spring of 2022, the Ministry of Public Services and Procurement Canada, the purchasing agent for the Federal government, published their Social Procurement Policy. The social procurement policy objectives include:
"Enhancing market competition, job creation, and economic and social advantages stemming from purchases from small and medium enterprises, social enterprises, or social purpose organizations. They can also include encouraging the conduct of socially responsible business and advancing diversity and inclusion."
These two policy pieces are foundational components to unlocking billions of dollars of Federal spending that can now be directed to include social value outcomes.
Social Purchasing Leaders
In addition to the Federal Government's commitments, the past year saw incredible leadership and growth at the municipal and regional government level. Municipal governments moved the needle further on social procurement policy and practice which is inclusive of environmental, Indigenous, and other social and sustainable impacts and benefits that can be leveraged through procurement.
The British Columbia Social Procurement Initiative (BCSPI) continued to expand across BC with 35 members as of December 2022. As a service delivery partner, Buy Social Canada supported consulting, training and resource creation for the initiative. BCSPI published the Annual Impact Report for 2021, showing over $77 million dollars of social procurement spend by their membership, and 826 participants trained on social procurement.
The Cities of Calgary and Edmonton and the Regional Municipality of Wood Buffalo are working on implementation and including social value in bid questionnaires. City of Peterborough passed a policy, and City of Winnipeg collaborated with community on a sustainable procurement action plan. Social Purchasing partners City of Brampton and City of St. Albert are also pursuing training and exploring social procurement implementation in their communities.
In addition to municipal governments leading the way, we're also seeing leadership from public and private institutions and organizations. Buy Social Pledge Leader SAP and Social Purchasing Partners Destination Vancouver and University of Toronto are actively purchasing from social enterprises and other social value suppliers, as well as working to implement social procurement in their own organizations and influence their sectors. Social Purchasing Partners First Credit Union, Novex Delivery Solutions, Johnson & Johnson, and Daily Bread Food Bank are also pursuing training and exploring how they can put social procurement into practice.
Through their commitments to buy with impact, these purchasers are creating ripple effects in their contracts as they tell the market what they are looking for, and seek feedback on what is possible.
Construction
This year there was growth in social procurement in construction, largely through the implementation of Community Benefit Agreements (CBAs) across Canada. CBAs have seen a variety of construction industry responses, including an initial sector pushback to perceived issues of added costs and implementation inefficiencies. At the same time, segments of the construction industry welcomed CBAs as a means for engaging with community issues, improved project planning, and addressing industry needs to meet skilled labour demand.
In 2022 Buy Social Canada published Voices of Industry: A paradigm shift in CBAs with research funded by Employment and Social Development Canada (ESDC). The report focuses specifically on whether CBAs can serve as a potential means to support apprenticeships and construction workforce diversity opportunities, exploring the views that are supportive of, neutral on, and against CBAs, and why. As the number of social procurement practices and CBAs increase, shared and common language and learning needs to evolve across government policy and the construction sector. The findings from this research indicate we may be witnessing an evolution of positive positions and attitudes towards CBAs from the construction sector.
The reportable outcomes of construction projects with a strong social procurement focus in 2022 included the first-year findings of the New St Paul's Hospital project in Vancouver. Buy Social Pledge Leader Chandos Construction has committed to a voluntary CBA in Vancouver, and is an outspoken champion of social procurement. Pledge Member Clark Builders and Social Purchasing Partner Delnor Construction are bringing social value to job sites across Canada at the Red Crow Community College (Clark Builders) and at the Kihciy Askiy project in Edmonton, to name two examples. Bird Construction has partnered with Chandos Construction on the Building Good initiative, and michael + clark construction continues to explore and implement social procurement opportunities.
We look forward to working with new and existing clients to shape common language and best practices for social procurement in construction and CBAs in 2023 and beyond.
Looking ahead
With all of this momentum it is clear that the marketplace revolution is well under way. Our deep-seated values in community economic development, Indigenous reconciliation, equity, diversity and inclusion will continue to guide us. We have an increasingly solid foundation that we can continue to build from as we work collectively to create community capital. As we look ahead to 2023, let's make a resolution to advance the marketplace revolution, deepening benefits to community as we create inclusive economies.